Junior Leagues
Youth Leagues
Featured programs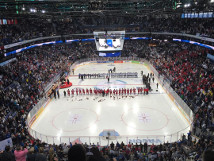 Southshore Kings hockey is a member of the USPHL
The South Shore Kings have a tradition of AAA hockey excellence for over 25 years. The Kings have an ongoing commitment to providing the highest level of coaching available in New England with a program that is a rigorous preparation for High School and College Hockey. Kings players are prominent and much sought after members of top level high school and college programs throughout the Boston area.
Getting Noticed
Exposure.
There is a standard rule of thumb in hockey, the next level will always find you. This is true for the most part. I have seen 100 point season go un-noticed in the past. The addage "if you build it they will come" is a little different these days. The more internet information you have about you out there will only benefit you and your future within the game of hockey. Many coaches rely on the internet to search for players. Simply posting a video and hoping someone sees it is great but highlight videos are exactly that, Highlights. They don't tell the whole story, only a very small part of it.
Posting your stats at Goalline Hockey is quick and easy. Goalline Hockey is also a place where thousands of hockey coaches come for information and resources. Posted stats here can be quickly sought out by coaching staffs all over the world. This can be done in realtime.
The Determined Competitor.
You have to be determined to move onto the next level and be successful. Stay at it and keep updating your stats and acheivements
Win the Game Within the Game.
Be a well rounded player with the right attitude. Be humble yet proud of your accomplishments. The first thing I look for in character is coachability. A player that won't look me in the eye during that initial conversation will most probably not be as coachable as an individual that asks questions and is engaged in the convesation.
Keep your expectations in check. Going from Midgets to DIII NCAA hockey is more then likely not going to happen for the average player. You will more then likely not be a first liner, be willing to work your way up.
Post Stats